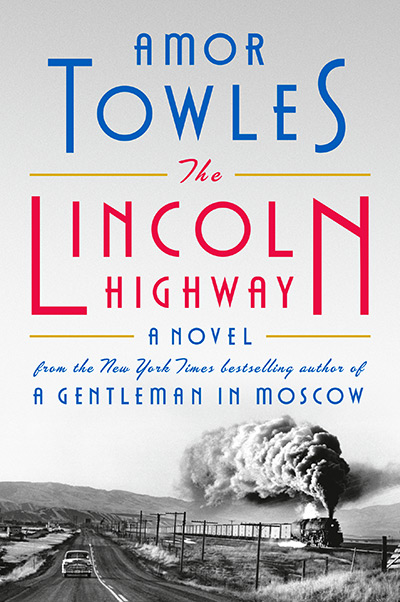 Author and Special Speaker Events
The Library hosts interesting speakers supported by your annual membership and donations.
Executive Director of LHA
Jerry Peppers
In New York Times bestseller, The Lincoln Highway, our 2023 Two Towns-One Book Community Read by Amor Towles, Emmett Watson has plans to go to California to attempt to track down his long-lost mother, heading off down the Lincoln Highway that passes close-by his Nebraska farm.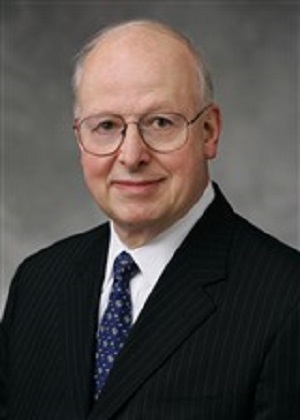 Pulitzer Prize Winner
Anthony Doerr
The New York Times best-seller list is usually filled with super popular authors like James Patterson, John Grisham, Janet Evanovich and JK Rowling. They deserve to be on the list because they are good writers, and they sell a lot of books. However, they are not the only good writers in the world. And, once in a while one of those terrific writers that no one has ever heard of makes it big, too. Such is the case with Pulitzer Prize winner Anthony Doerr, who spoke at our library on October 14.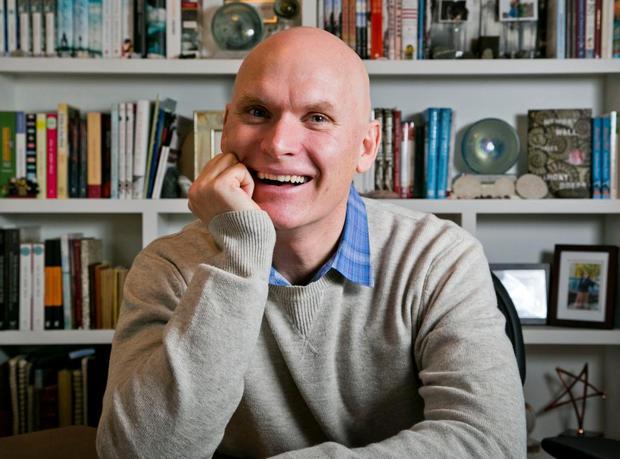 Nicole Kear
Once again, the Library and the Friends Two Towns-One Book committee brought an interesting speaker to our community. Nicole Kear spoke of her life-changing diagnosis that inspired her memoir, Now I See You. She is going blind because of retinitis pigmentosa within the next decade. Instead of making preparations, Kear decides to make the most of the vision she has left. Told with humor, Now I See You is an uplifting story about refusing to cower at life's curveballs, about the power of love to triumph over fear. And, at its core, it's a story about acceptance: facing the truths that just won't go away, and facing yourself, broken parts and all.
Nicole regaled the audience with her humor, signed books, and answered questions.
Jan-Philipp Sendker

April 16, 2015
The Library and the Friends Two Towns-One Book committee did it again! Jan-Philipp Sendker, author of The Art of Hearing Heartbeats, the book selected for the 2015 community read program, came to Clifton Park.
Born in Hamburg, Germany in 1960, Mr. Sendker was the American Correspondent for Stern from 1990 to 1995, and its Asian correspondent from 1995 to 1999. In 2000 he published Cracks in the Great Wall, a nonfiction book about China. The Art of Hearing Heartbeats is his first novel.
Piper Kerman

September 22, 2014
Ms. Kerman wrote the #1 New York Times best-selling memoir, Orange Is the New Black: My Year in a Women's Prison, in 2010. A Smith College graduate, Piper was bored stiff with her middle-class life. Recklessly, she got involved with an unsavory group of bohemian artists who were involved in the drug trade and money laundering.
After traveling the world and smuggling a suitcase filled with drug money from Chicago to Brussels, Piper reconsidered what her life would be if she continued on this dangerous path. She broke free, created a new life, and was about to be married when her past caught up with her.
Josh Kilmer-Purcell and Brent Ridge

January 11, 2013
The Fabulous Beekman Boys, Josh Kilmer-Purcell and Brent Ridge, wowed the Clifton Park-Halfmoon Library audience when they appeared at the Two Towns-One Book author event.
Eight out of ten members of "Bound by Books" book club attended the event at our wonderful library. Eight out of ten members of "Bound by Books" attended the Fabulous Beekman Boys event at our wonderful library. One of the members wrote the following: The group has been meeting once a month for approximately 15 years . . . the newest member joined eight years ago. We rotate houses and select 10 books to read and discuss each year. 
Jim Ryun

May 20, 2013
Olympic Medalist and World Record Miler Jim Ryun wrapped up the 2013 Two Towns-One Book festivities when he spoke at the library. Ryun talked about meeting Louis Zamperini, the subject of Unbroken, shared stories from his own Olympic experiences, and showed videos chronicling his rise from a skinny little kid to world record runner.
Matt McElligott
with avid fan.

March 5, 2013
Math, mad scientists, and mixed-up mayhem of a piratical variety was on the library horizon when families and other children's literature enthusiasts were treated to an evening with local author and illustrator Matt McElligott.
Dennis Lehane

Autumn 2012
What a wonderful treat having author Dennis Lehane visit our library.Dennis Lehane is the author of nine novels including the New York Times bestsellers Gone, Baby, Gone; Mystic River; Shutter Island and The Given Day, as well as Coronado, a collection of short stories and a play.
Markus Zusak

April 3, 2012
The Two Towns-One Book 2012 author event brought a discussion with Markus Zusak, author of The Book Thief, using SKYPE technology via computer from his home in Australia.
Born in Hamburg, Germany in 1960, Mr. Sendker was the American Correspondent for Stern from 1990 to 1995, and its Asian correspondent from 1995 to 1999. In 2000 he published Cracks in the Great Wall, a nonfiction book about China. The Art of Hearing Heartbeats is his first novel.
Will Shortz

December 5, 2011
Have you ever heard of an Enigmatologist? If the answer is no, you are not alone, but one visited our library.
Will Shortz, puzzle editor of The New York Times since 1993 is an enigmatologist. He's the only academically accredited one in the world, having designed his own major program at Indiana University, which in 1974 led to his one-of-a-kind degree in enigmatology
Alafair Burke

October 29, 2011
What do you do when you show up for your first day of work and the building is empty, except for the dead body of your new boss?
Novelist Alafair Burke gives us the answer to this question in her latest book, Long Gone, which she spoke about during her visit to our Library.
Janine Cammarata

October 17, 2011
Janine Cammarata launched the second novel in her time travel adventure called Eyes of the Goddess, at our Library. This is the second book in the Fianna Cycle trilogy that focuses on the mythological stories of Celtic Ireland and entwines it with modern characters.
Lee Child

November 3, 2010
Author Lee Child thrilled the capacity crowd of over 300 at the Library with his discussion of his writing process (a word at a time without outlining the entire book), noting that he doesn't "even have a plan for that paragraph." Going back to Cro-Magnon man, he noted that through storytelling, we were able to figure out a way to survive the dangers that faced us every day.
Margaret
Peterson Haddix

May 26, 2010
Margaret Peterson Haddix comes from a long line of bookworms, so it is no wonder that she became a writer. "When we went on family vacations, my parents were always saying things like, 'Would you guys stop reading for a minute and look out the window? That's the Gr [and Canyon were driving past!'
Scott Kellogg

April 14, 2010
Local author Scott Kellogg believes we can learn to be more self sufficient and tread more lightly on the world. City and suburb dwellers can have local access and control over life's essential resources: food production, water security, waste management, autonomous energy, and bio-remediation of toxic soils. And, he believes we can do these things without huge monetary investments, becoming more secure in the process.
Terry Trueman

April 8, 2010
Shawn McDaniel, a teenage boy with cerebral palsy, has a secret: he remembers everything he hears or sees. He believes he is, in fact, a genius. Unfortunately, no one but Shawn will ever know because he is unable to communicate. There is another thing: only he and his father know that his dad is planning to kill him.
Laura Lippman

October 5, 2009
Ideas are only worth the paper on which they're written. They're not a valuable commodity in the abstract without putting in the work to bring those ideas to the page. Best-selling novelist Laura Lippman shared this with a very enthusiastic audience.
Gordon Korman
Gordon Korman, author of more than 40 children's and young adult books will be appearing at the Clifton Park Halfmoon Public Library on April 29, 2009.
Korman, whose books have sold millions of copies, strives to write stories that provide a healthy dose of humor for his young readers. "My books are the kind of stories I wanted to read and couldn't find when I was ten, eleven, and twelve," he once remarked. "I think that, no matter what the subject matter, kids' concerns are important, and being a kid isn't just waiting out the time between birth and the age of majority. I hope other kids see that in my work."