Friends Used Book Sale
Our Used Book Sales are extremely popular and a wonderful way to raise funds to support library programs. They're made possible by the community's generous donations of gently used books and audiobooks.
About the Book Sales
We host three large, multi-day sales each year, with occasional mini-sales when shelves are bursting.
Donations are accepted all year, with short breaks before and after each sale to allow time to organize prior to and after a sale.
On the first day of each large sale, Members of the Friends of the Library have access to an hour-long preview sale, prior to the general public being admitted.
A membership desk is open during each sale for new members to join that day or for membership renewals. We always have a list of current members at the sale and can check to be sure your membership is current.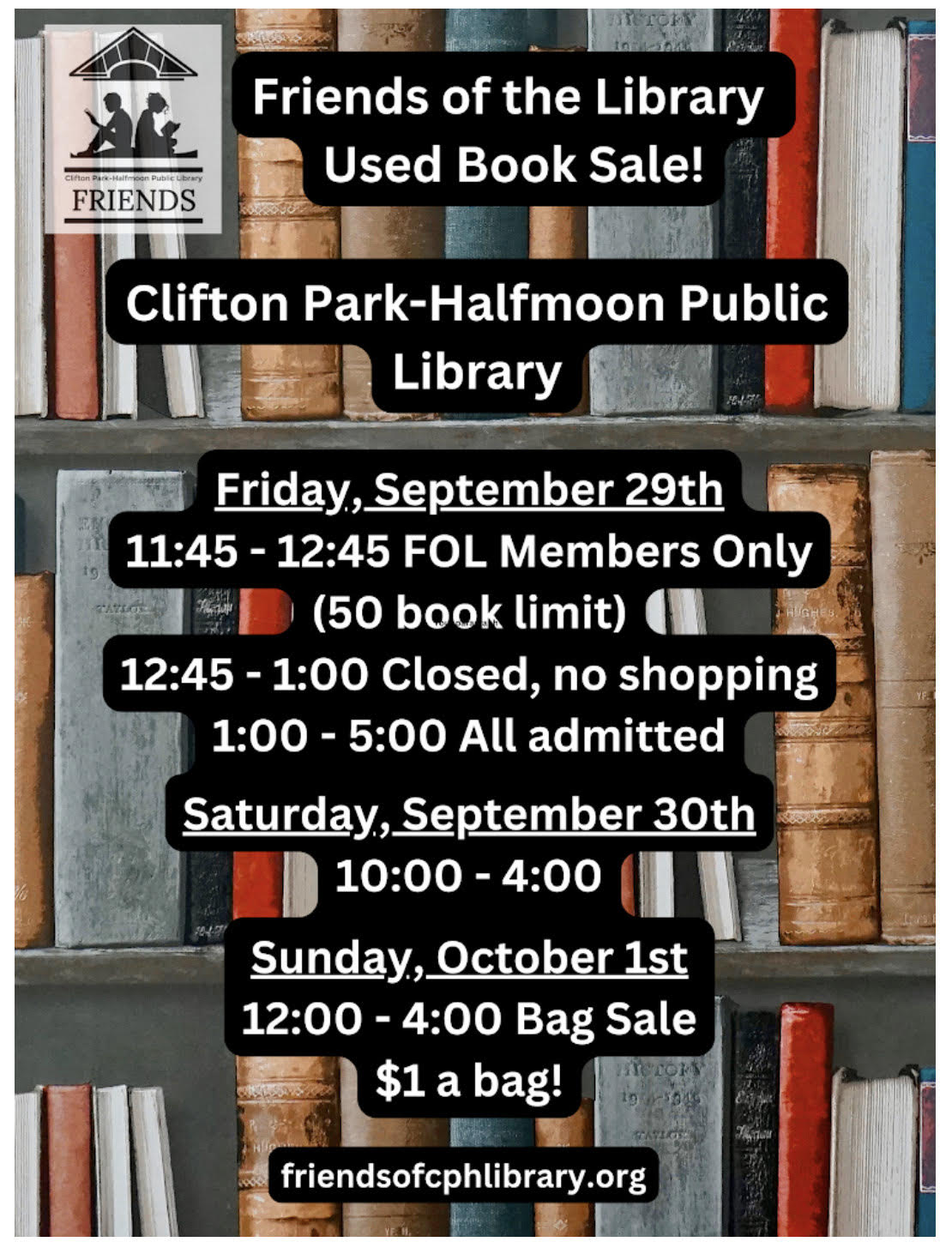 ​When and how can I donate?
Donations are accepted all year EXCEPT for the two weeks preceding a sale and the two weeks following a sale. These breaks allow us time for sale set-up and clean-up. Any changes to the timing of donations will be announced via email or on the website. Not on our email list? Contact us at friendsofthecphlibrary@gmail.com.
Donations can be brought into the Library during Library business hours and placed on one of the carts beside the Welcome Desk. DO NOT leave books outside the Library or place them in the Library book return.
If you have a very large donation (multiple boxes), please call the Library so that they can let us know ahead of time. You also can notify us using the email link below.
We ask that large donations be broken up into two or three boxes delivered once or twice a week. This helps to keep the sorting work at a manageable level for our volunteers.
If you would like a letter about your donation for tax purposes, please ask at the Welcome Desk when you make your donation.
Used Book Sale Donation Policy
Items We CANNOT Accept
We CANNOT accept books that are in poor condition and materials we have found we cannot sell. When materials included in the list below are left for donation, Friends of the Library volunteers must take on the tasks of recycling or discarding them. We kindly ask that do not bring the following items to donate:​
DVDs
CDs (with the exception of audiobooks)
textbooks or encyclopedias
dusty, moldy or damaged books;
children's books that have been chewed, drawn in, water damaged, or had pages torn or removed;
magazines and brochures
Readers Digest Condensed Books
VHS tape;
cassette tapes
What to do with Items We CANNOT Accept
If you have magazines or damaged /dirty paperback books, they can be recycled at most curbside pick-ups or taken to the Clifton Park Transfer Station located at 217 Vischer Ferry Road, Rexford. The Transfer Station's Recycling Center is free and open to anyone. Please call 518-371-6669 for more information.
If you remove the hardback and spine of hardback books, the pages can be recycled as above and the hardback and spine can be discarded in your trash.​
Volunteering for Book Sales:
On the day prior to a sale, people with strong backs and/or an eye for detail are needed to set up tables, move boxes of books and organize everything so it is ready when the doors open.
During the sale, volunteers are needed as:

Counters/baggers – counting the items purchased and bagging them
Floaters – helping people find what they're looking, answering questions, and keeping shelves and tables neat
Cashiers.
At the end of the sale, we need people with packing skills and strong backs to re-box books neatly and move the boxes back into the book room. Others are needed to mark unsold books.
Weekly Sorting:
Every week, volunteers sort donated books so that when customers come to the sale everything is vetted and well organized. While all of these positions currently are filled, we can put you on a waiting list for future openings.​​
If any part of this sounds interesting to you, contact us at by email for more information!
Get Involved
Join a network of friends who enjoy attending and planning wonderful events and activities for our community to enjoy that promote the image of our library. Plus, you benefit at every membership level! Read about how your membership donation keeps giving!